We are Trudy and Harry Kuipers 'Van't Regge Home' in Enter, Holland.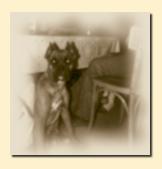 The beginning of our kennels:
Harry got to know and to love Boxers through his grandpa. In 1973 our first Boxer came into our house. It was Robby, 7 years old, a very good boy , and he spent another three years with us.
Of course you have to wait and see, whether the pretty puppy develops into a handsome and good dog. It happened. Karien was of a fantastic character, and - moreover - she won a lot of prizes and cups at shows. When she was 18 months old, the Vet examined her hips. Result: HDtc, which made us really happy, because we could start with the breeding now.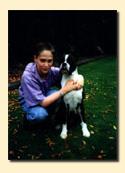 Karien got her first puppies in 1988. That was the beginning of the very successful breedership of 'Van't Regge Home'. Karien was the foundation bitch of all our Boxers following. She left us, when she was eleven.
From that time on, our kennel grew bigger and bigger, and we are still breeding with great love, engagement and much success. To stay up to date and to learn more about developments and news regarding Kynologie we attend the Dog Breeders' Congress in Ede every year.
Of course: Breeding a handsome dog is our aim, but certainly the character and health are much more important to us. When the puppies leave us, they are vaccinated and they are socially fastened and they are well prepared for their new home. If the new owners wish, we are supporting them in word and deed.
When Robby had passed away, we took Sonja home,

a kind Boxer girl, because we really fell in love with that handsome and outstanding kind of breed. When our first son was born at that time, we recognized with great pleasure, how fond of children a Boxer is. After Sonja had passed away, we soon wanted to have a new doggy - as well as a friend but also as a dog, we could take to shows, and if possible, to breed with. We joined the 'Nederlandse Boxerclub' to find the right dog and there we met a breeder, who exactly knew what we were looking for. The breeder taught us a lot about Boxers. We bought 'Karien van Marjitz', a lovely brindled, praised bitch. No question, she seemed to be born just for us, because she was born the same day when Sonja died.